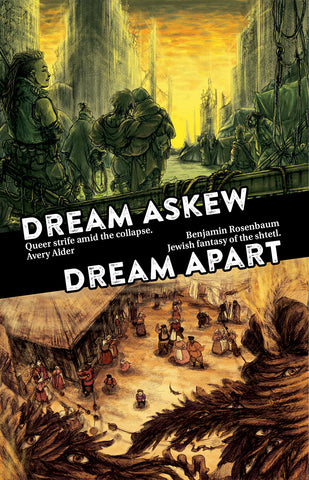 Dream Askew / Dream Apart + complimentary PDF (via online store)
This product comes with a complimentary PDF which you will be able to access via your order page once we have processed the order.
Dream Askew and Dream Apart are two games of belonging outside belonging. Each is about a marginalized group of people living together in precarious community. Dream Askew explores the story of a queer enclave amid the collapse of civilization. Dream Apart explores the story of a Jewish shtetl in a fantastical version of nineteenth-century Eastern Europe.
Both games are played in much the same way: by creating characters, roleplaying as them, and telling an impromptu story together. The rules and structure ensure that you always have creative prompts to work with. It's beginner-friendly!
This book teaches you how to play either of these games, as they share a common structure. It also provides you with a breakdown of all the materials you'll print out and use during play, depending on which of the two games you pick. Finally, it ends with a guide to designing your own games of belonging outside belonging.
---
We Also Recommend