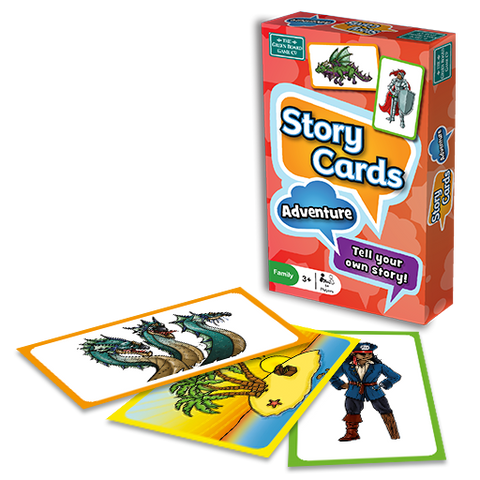 Story Cards: Adventure
Story Cards have been developed to help young children with their imagination and story-telling skills. This adventure set includes pirates and wizards, volcanoes and explosions, dinosaurs and magic potions. These flashcard-sized cards will help you and your child to create wonderful stories time after time.
These cards are full of characters, places and things that may happen in your story, making each one a different adventure. With young children you can pick 2 cards and use them to make simple sentences together. Try giving the characters and animals names.
To develop the game, shuffle the cards and take 3 cards, each from a different colour set. Use these cards to tell a short story.
Older children can take more cards, either from different coloured sets or more than one card from the same coloured set, to use to tell their story.
Fun and easy way to help young children develop their language skills
Colour-coded cards for characters, settings, objects, actions, animals and weather
Quick and easy to understand and learn
Designed by an experienced primary school teacher
Suitable for children aged 3+
Made from at least 70% recycled material and designed in the UK
---
We Also Recommend