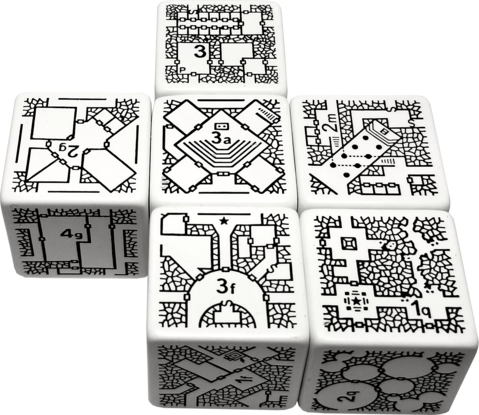 DungeonMorph Dice Voyager Set
The Voyager set of DungeonMorph Dice consists of 6 dice with six different designs per die. This set has five other dice which are core to this set plus a random bonus die from any of our dungeon or cavern sets. (In the picture, it is the "p" (prisons) die in the back. Each die has a theme with a small letter code adjacent to the side's number:
a - Altars/Worship Areas

f - Forges/Workshops

g - Guard Barracks

m - Mezzanines/Halls

q - Quaint/Unusual Designs

The designs are engraved into these nearly 1" cubes. Grab some dice to roll a dungeon-on-the-fly! Or use them as inspiration when designing a dungeon.
---
We Also Recommend