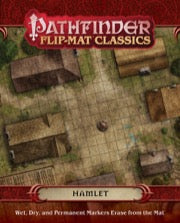 Pathfinder Flip-Mat Classics: Hamlet
Haven or Hotbed!
Sometimes adventurers need a safe place where they can restock their supplies and ruminate on the next step of their campaign. Yet quaint rural hamlets often hide their own dangers, and no Game Master wants to waste valuable time drawing every well and root cellar. Pathfinder Flip-Mat Classics: Hamlet makes the perfect setting for a heroes' refuge or a dangerous trap!
The most-popular Pathfinder Flip-Mats in history return! These fan-favorite maps feature versatile adventure settings—city streets, forests, ships, taverns, and more—and now they're back for a repeat performance. Durable and lavishly detailed, these essential adventure set pieces are sure to bring excitement to your game table for years to come!
A special coating on each Flip-Mat allows you to use wet erase, dry erase, AND permanent markers with ease! Removing permanent ink is easy—simply trace over any permanent mark with a dry erase marker, wait 10 seconds, then wipe off both marks with a dry cloth or paper towel. Each Flip-Mat measures 24" x 30" unfolded, and 8" x 10" folded.
---
We Also Recommend