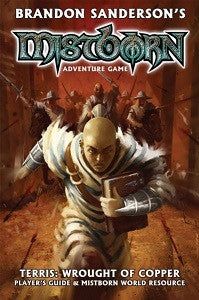 Mistborn: Terris, Wrought of Copper - reduced
The first supplement for the smash-hit Mistborn Adventure Game! Developed in cooperation with Brandon Sanderson and built for players, Narrators, and fans of the Mistborn novels alike, this guide offers a detailed look at the history of the Terris Dominance and its people. Included are a guide to the capital city of Tathingdwen, an exploration of the secretive Terris Synod, insights into the awesome power of Feruchemy, and new rules, Stunts, Networks, and equipment designed especially for Terris Heroes.
Also included is an epic adventure, Justice, like Ash, which takes your Crew from Luthadel to the farthest reaches of the Terris Dominace in a thrilling series of events that threatens to rock the Final Empire to its very foundations. Can you catch a killer before the Lord Ruler's wrath is unleashed across all of Terris? The fate of an entire people rests on your shoulders.
---
We Also Recommend