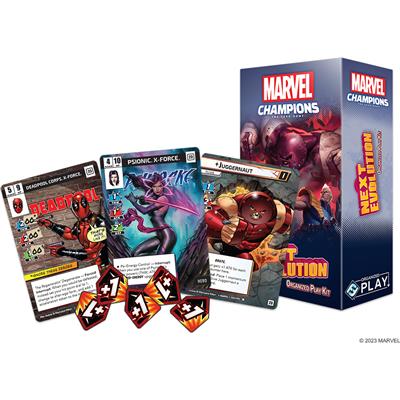 2nd December (Saturday): Marvel Champions NeXt Evolution Game Day
11am for an 11.30am start
X-Force has arrived in Marvel Champions: The Card Game! The arrival of this team of superpowered mutant task force deserves the flair and excitement of some special promotional content, and what better way for players to upgrade their battles than with the NeXt Evolution Story Kit!
This kit is designed to commemorate the launch of the NeXt Evolution expansion for Marvel Champions: The Card Game. Each group of up to 4 players will require a copy of the NeXt Evolution expansion to play. 
You will be given a series of missions at the start of the day, and as you complete them will be given a blind pack full of extended- and alternate-art promo cards from the NeXt Evolution wave of products. Each player will also receive a sheet of themed acceleration tokens (perfect for games with Deadpool).
Mister Sinister has put his plans into motion—will your players rise to the challenge and stop him?