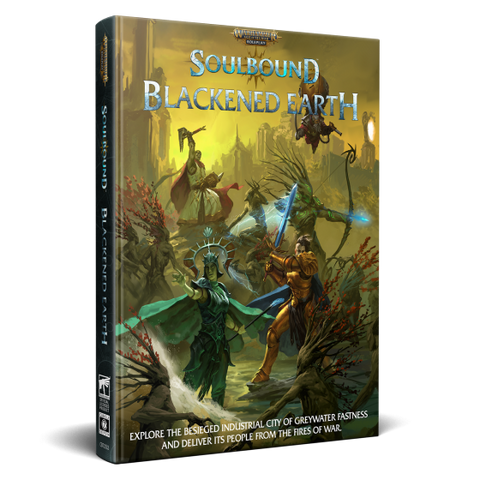 Warhammer Age of Sigmar Roleplaying Game Blackened Earth + complimentary PDF
Greywater Fastness is under siege. The vast industrial city dedicated to producing weapons and arms for Sigmar's armies now finds itself teetering on the brink of oblivion. A tide of power hungry Skaven covet Greywater's technology. The neighbouring Sylvaneth sing a song of revenge for the lands polluted by the city's toxic runoff. And within the city itself, allies and enemies alike stoke the self-destructive flames of war. But if Greywater Fastness falls, Sigmar's armies across the realms fall with it…
Strike out into the forge-hot streets of Greywater Fastness in this brand new campaign for Warhammer Age of Sigmar: Soulbound. Blackened Earth is a thrilling five-part campaign set within the free city of Greywater Fastness in Ghyran, the Realm of life. Here, the Soulbound are tasked with steering this vital city of Sigmar away from its path of destruction. With monsters gnawing at the gates, allies turning into enemies, and warmongers fighting for dominance in the city, the Soulbound must use everything at their disposal to save the doomed city from immolation in the fires of war.
This book contains:
An epic campaign told across five thrilling adventures. Walk the streets of one of Sigmar's most industrialised city then strike out into the blasted wastelands and vibrant wilds of the Realm of Life.
A comprehensive guide to the city of Greywater Fastness. Discover its history and how it was founded, explore over 70 unique and strange locations, and learn about the major players in the city.
A beautifully illustrated map of Greywater Fastness!
New items to purchase in the city's black markets, and new Endeavours to undertake while in the city!
New terrifying monsters and allied NPCs for your Binding to encounter!

---
We Also Recommend